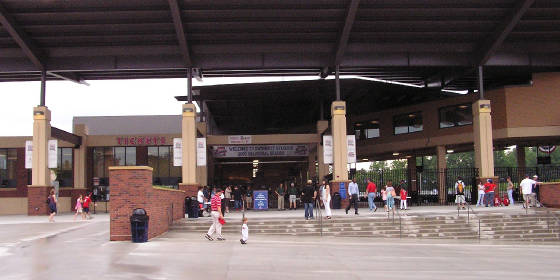 TEAM ::: GWINNETT BRAVES
LOCATION ::: LAWRENCEVILLE, GEORGIA
MY FIRST VISIT ::: MAY 26, 2009
OPPONENT ::: INDIANAPOLIS INDIANS
LEVEL ::: INTERNATIONAL LEAGUE 'AAA'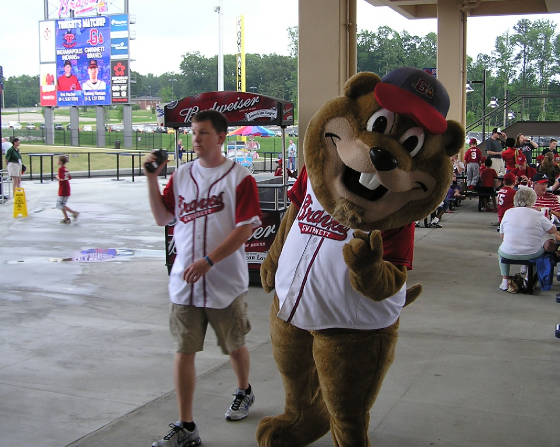 RATINGS
BALLFIELD ::: A
SCOREBOARD ::: A+
FOOD ::: A-
FACILITIES ::: A
MASCOT ::: B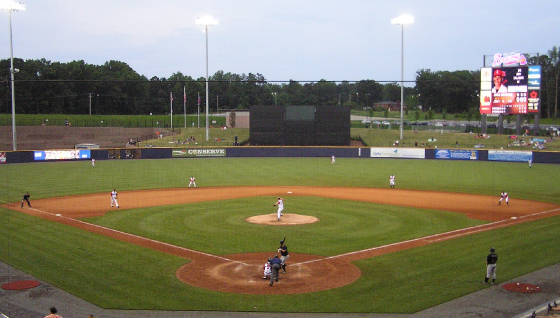 MY TAKE ON THE PARK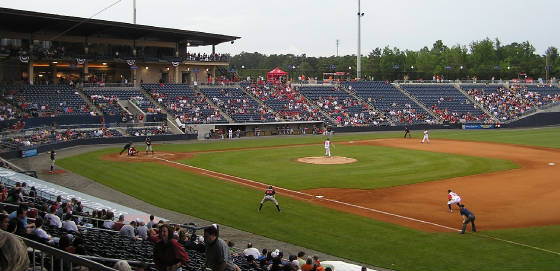 In 2009 the Gwinnett region, a suburb of Atlanta fields the relocated Richmond Braves. I wouldn't even think to start to compare the new park with the Diamond in Richmond, but when the new place is very modern and completely different, it makes for a nice evening in this suburb north of Atlanta.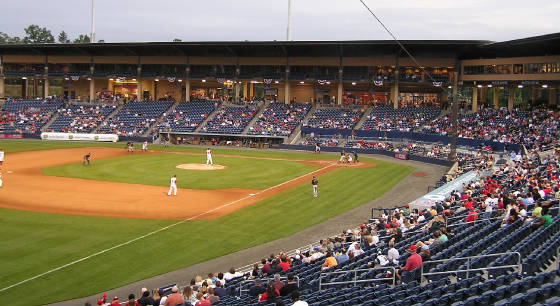 Gwinnett Stadium is a very modern ballpark, which is small and comfortable. I would go so far as to say it is a simple park with a
simple design.
$3 to park into a spacious lot where they seem to have traffic flowing well. I didn't notice any traffic issues here. Tickets are a bit on the high side, compared to other Internationanl League teams but not compared to the Atlanta club. $15 for an infield seat, however you are given a program upon entering the park.
Like Atlanta, they sell regional hot dogs at the game, I had a Georgia Dog which is a hot
dog w/ relish cole slaw and vidalia onion. It was very good!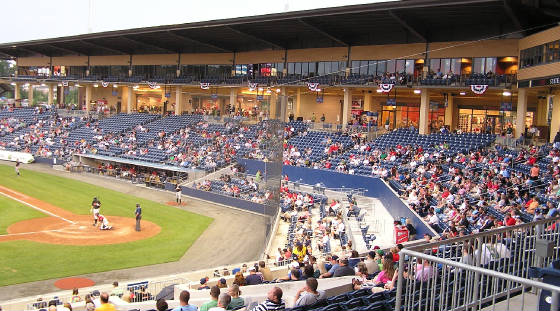 The seating is a comfortable, dark blue seats surround the stadium from foul pole to foul pole.
The second level is for luxury boxes, luxury
seems to be key here. Like Yankee Stadium there was a section seating behind home plate that looked eerily similar.
I went on a rainy Tuesday night so I can't be sure if the seats aren't filled or people just
stayed away due to the weather.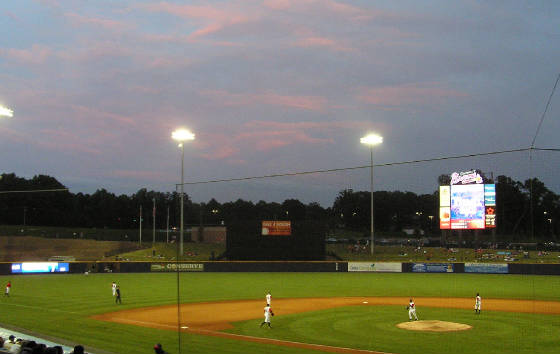 Behind the sea of blue seats runs a spacious 360 concourse where good views can be had throughout the park. The grass in the outfield seemed like a popular place to enjoy the game.
Speaking of the game, the scoreboard is midwest fast on the updates and is
informative. The sound system here is also very good.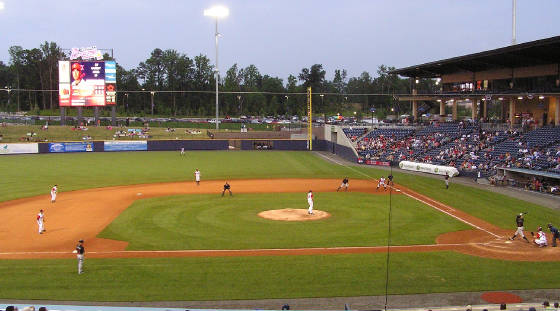 A Braves game north of Atlanta is still a cheaper way to spend the night than traveling to Atlanta. Here the Braves put on a good show in a park that I think is incomplete.
In the drawings of the place, I see something will be going up in left field. Right now there is a wall out there behind the bullpens giving batters something to aim at.
I will have to make a return trip to see if there is any progress, also to see if the seats behind home plate are filled. Just remember, even
though it is an Atlanta suburb, there is still Atlanta traffic. I'm thinking it is worse than Chicago and DC.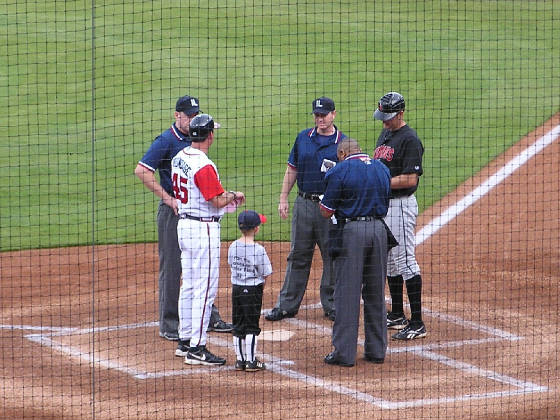 THE LINE UPS
Indianapolis Indians manager :::
22 Frank Kremblas

Gwinnett Braves manager :::
45 Dave Brundage
INDIANAPOLIS INDIANS
2 Andrew McCutchen cf
5 Shelby Ford 2b
34 Jeff Salazar lf
26 Steve Pearce 1b
27 Garret Jones rf
24 Neil Walker 3b
14 Erik Kratz c
6 Luis Cruz ss
28 Eric Hacker p
18 Juan Mateo LP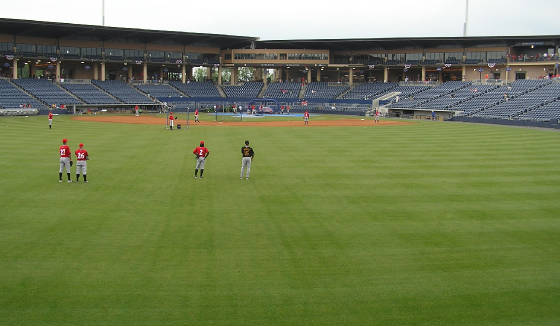 GWINNETT BRAVES
1 Gregor Blanco cf
19 Wes Timmons 2b
55 Barbaro Canizares 1b
15 Brooks Conrad ss
4 J.C. Holt lf
8 Van Pope 3b
5 Clint Simmons c
22 Brian Barton rf
32 Tommy Hanson p
29 Luis Valdez WP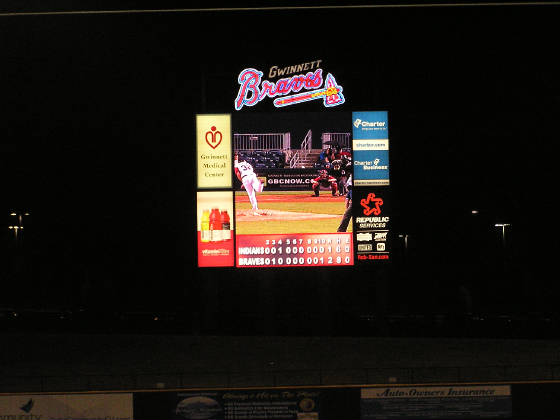 INDIANS 000 100 000 0 1 6 0
BRAVES 001 000 000 1 2 8 0
TIME ::: 3:03
ATTENDANCE ::: 4,120
WEATHER ::: 75 CLOUDY HUMID
GAME DELAYED :17 DUE TO RAIN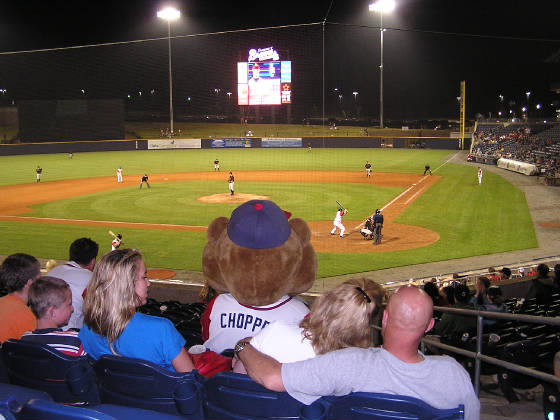 SEND ME AN E-MAIL

LINKS
The Official site of the Gwinnett Braves
Lawrenceville weather from WEATHER.com
© 2000-2012 UNCLE BOB'S BALLPARKS
I AM IN NO WAY AFFILIATED WITH ANY OF THE TEAMS ON THIS PAGE ... THIS
PAGE IS MEANT FOR INFORMATION PURPOSES ONLY.